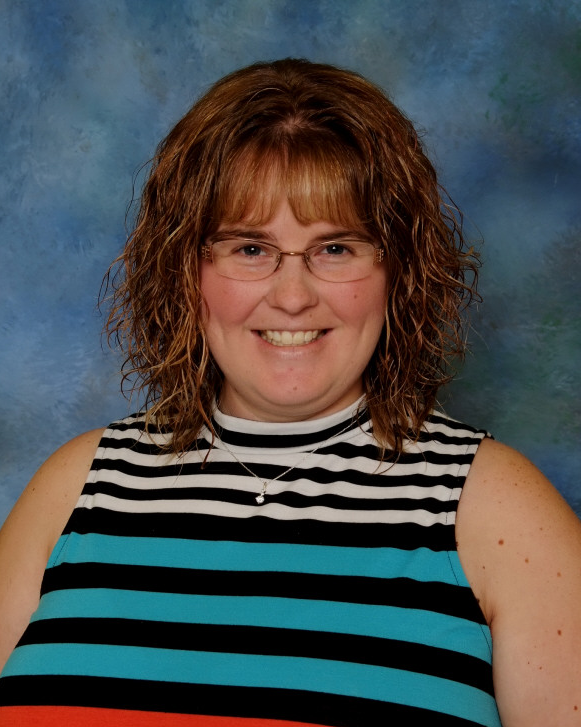 Mrs. Shannon Stewart is beginning her 14th year of teaching. She has taught Kindergarten, First, and Second Grades.
She earned a Bachelors of Science Degree in Interdisciplinary Studies with a specialization in Early Childhood through Fourth Grade from Texas A&M-Commerce. She is a 2003 graduate of Wolfe City High School.
She has been married to her husband, Charlie, for 11 years. They have three children: Lainey, Paisley, and Stihl.
Her hobbies include painting, sewing, and watching movies with her kids!
| Time | Subject/Activity |
| --- | --- |
| 7:50-8:00 | Attendance/Lunch Count/Morning Work |
| 8:00-10:00 | ELAR |
| 10:00-10:30 | Science |
| 10:30-11:30 | Specials- Music, Art, PE |
| 11:30-11:40 | Restroom |
| 11:40-12:10 | Lunch |
| 12:10-1:30 | Math |
| 1:30-1:50 | Centers |
| 1:50-2:20 | Intervention |
| 2:20-2:50 | Social Studies |
| 2:50-3:20 | Recess |
| 3:20-3:25 | Pack-Up and Dismissal |
Kindergarten English Language Arts
1st Nine Weeks
Unit 01: Sharing Ideas and Messages
Unit 02: Reading with Purpose
2nd Nine Weeks
Unit 02: Reading with Purpose – continued
Unit 03: Growing Readers and Writers Through Literary Works
3rd Nine Weeks
Unit 04: Growing Readers and Writers Through Informational Text
Unit 05A: Rediscovering Literary Text
4th Nine Weeks
Unit 05B: Connecting as Readers and Writers
Unit 06A: Research: Generating Questions and Finding Answers
Unit 06B: Media Matters
Kindergarten Math
1st Nine Weeks
Unit 01: Introducing and Developing Numbers 0 – 5 and Reciting Numbers to 30
Unit 02: Introducing Contextual Sums and Minuends to 5
Unit 03: Introducing and Developing Numbers 6 – 10 and Reciting Numbers to 60
2nd Nine Weeks
Unit 04: Contextual Sums and Minuends to 5
Unit 05: Data Analysis with Numbers 0 – 10
Unit 06: Introducing and Developing Numbers 11 – 15 and Reciting Numbers to 90
Unit 07: Introducing Contextual Sums and Minuends to 10
3rd Nine Weeks
Unit 08: Introducing and Developing Numbers 16 – 20 and Reciting Numbers to at Least 100
Unit 09: Contextual Sums and Minuends to 10
Unit 10: Data Analysis with Numbers 10 – 20
Unit 11: Geometry – Two-Dimensional Shapes
Unit 12: Geometry – Three-Dimensional Solids
4th Nine Weeks
Unit 12: Geometry – Three-Dimensional Solids (continued)
Unit 13: Coin Identification
Unit 14: Measurable Attributes and Direct Comparisons
Unit 15: Numeracy
Unit 16: Personal Financial Literacy
Kindergarten Science
1st Nine Weeks
Introduction: Working Like a Scientist
Unit 01: Exploring Properties of Objects
Unit 02: Exploring Energy
2nd Nine Weeks
Unit 03: Exploring Position and Motion
Unit 04: Exploring Earth Materials
Unit 05: Exploring Weather
3rd Nine Weeks
Unit 06: Observing Objects in the Sky
Unit 07: Describing Seasons
Unit 08: Exploring Organisms and Environments
4th Nine Weeks
Unit 08: Exploring Organisms and Environments (continued)
Unit 09: Exploring Physical Characteristics of Organisms
Unit 10: Exploring Plant Life Cycles
Kindergarten Social Studies
1st Nine Weeks
Unit 01: My Home and My Classroom
Unit 02: Our School Community
2nd Nine Weeks
Unit 02: Our School Community (continued)
Unit 03: Geography and Places
3rd Nine Weeks
Unit 04: Community Celebrations, Customs, and Family Traditions
Unit 05: Citizens in the Community
4th Nine Weeks
Unit 05: Citizens in the Community (continued)
Unit 06: Working Together in a Community