Returning Student Enrollment
Wolfe City ISD uses Ascender ParentPortal to manage information for students within Wolfe City ISD. Ascender ParentPortal is used to update all student information, digitally upload documents required for registration, and complete forms that are required annually. This is required for all returning students in order to re-register for the upcoming school year.
Required Registration Documents for Returning Students: Upload to Ascender Parent Portal
Proof of Residency:

A recent paid rent receipt

HUD/Settlement Statement

Most recent property tax receipt indicating home ownership

Current Voter Registration Card

Contract of sale or lease agreement

Gas bill indicating the address and the adult's name

Water bill indicating the address and the adult's name

Electric bill indicating the address and the adult's name
Step 1
Complete online registration using Ascender Parent Portal. Click here to access Ascender Parent Portal.
-Click Start Registration
Forms will require one of two actions: View only/Download or Review and Update.
View only/Download: View the form and acknowledge that you have viewed the form. There is no information to enter. By clicking Next Form, you are confirming that you viewed the form.

Review and update: Review existing student information and add or update as needed. If a field contains the Document button, this is where you will upload your proof of residency documentation.
-Click Next Form, continue reviewing forms, and clicking Next Form until you have reviewed and updated all forms.
-If you are not ready to complete a form, click Save Form to save any information entered so far.
-If you leave ParentPortal before finishing registration updates, a Resume Registration button is displayed allowing you to continue where you left off.
-The list on the left side of the page displays Pending or Complete to indicate registration status.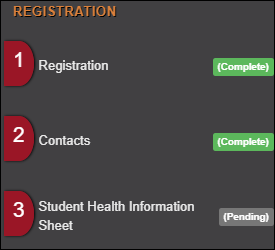 -When you have viewed and entered all the required information, Click Finish and Submit to District.

STEP 2:
If you have difficulties uploading proof of residency to Ascender Parent Portal, please email the proof of residence to the appropriate campus email. Please include the student name and grade level in email.
Wolfe City Elementary School: smithj@wcisd.net
Wolfe City Middle School: steelea@wcisd.net
Wolfe City High School: guiettek@wcisd.net