Congratulations to these young men on their individual district achievements this year!🐺🚾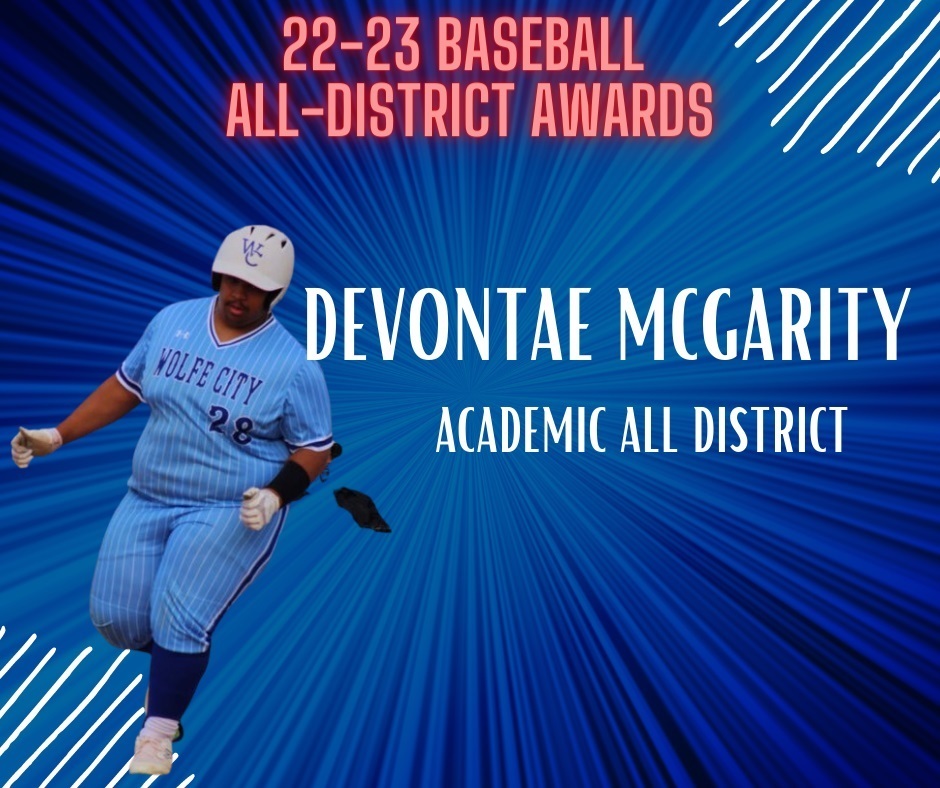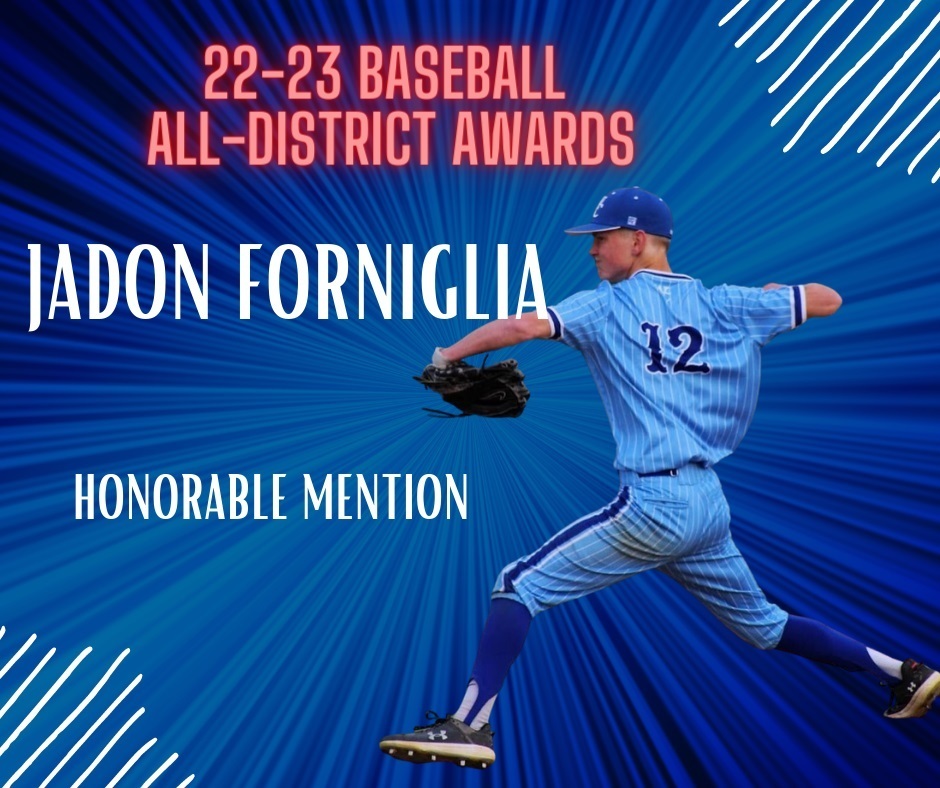 Congratulations to these young men on their individual district achievements this year! .🐺🚾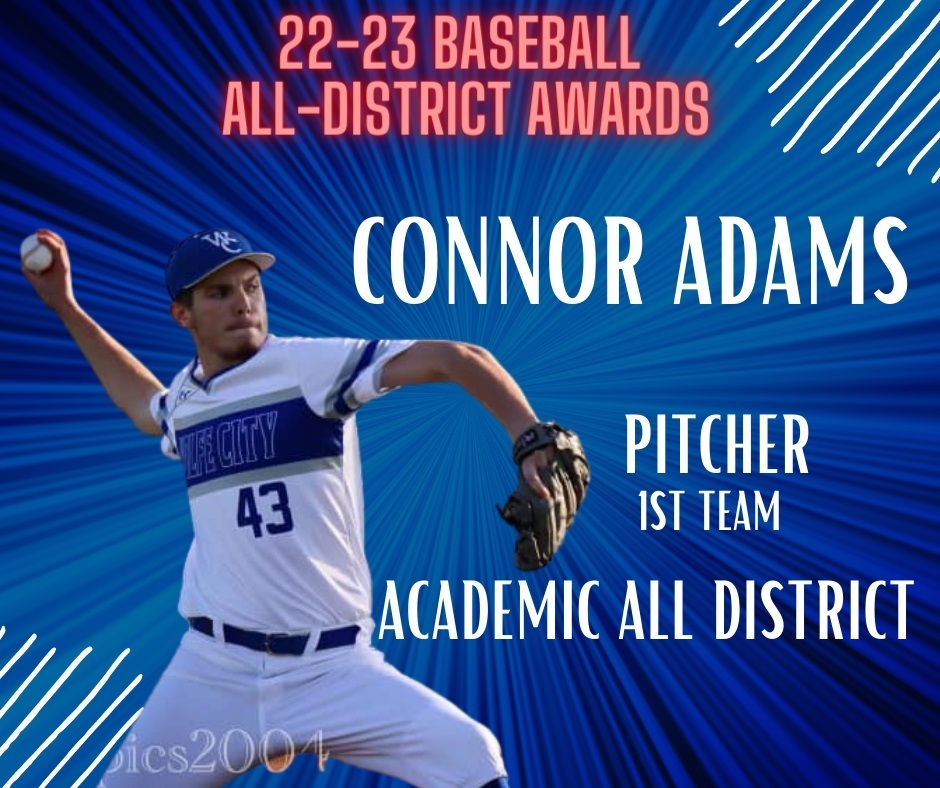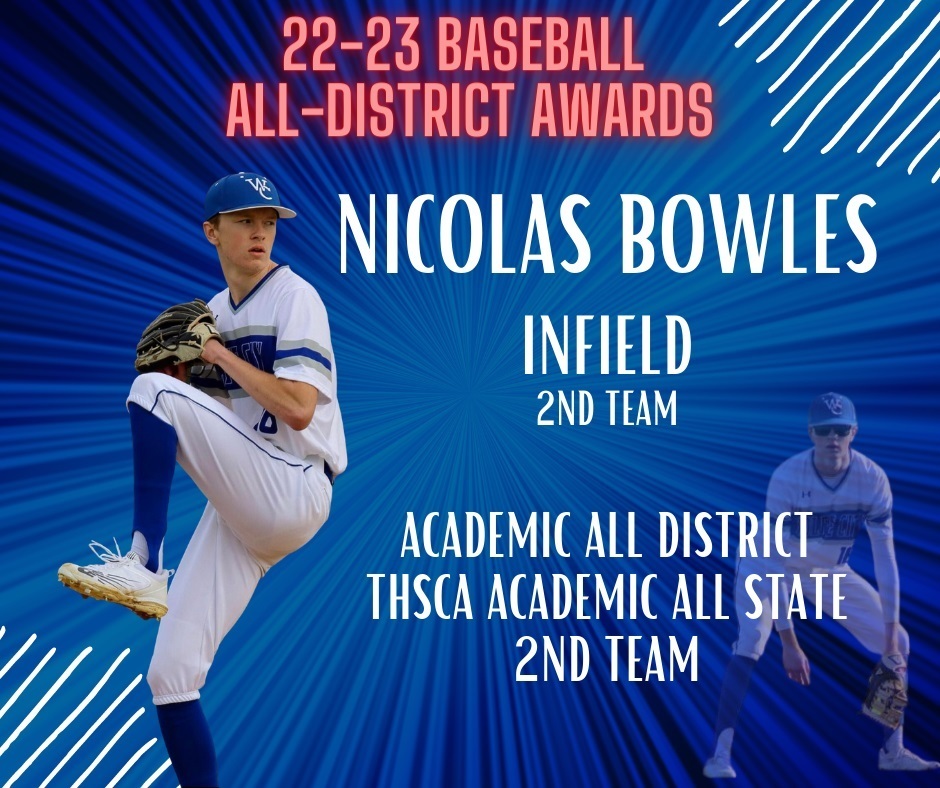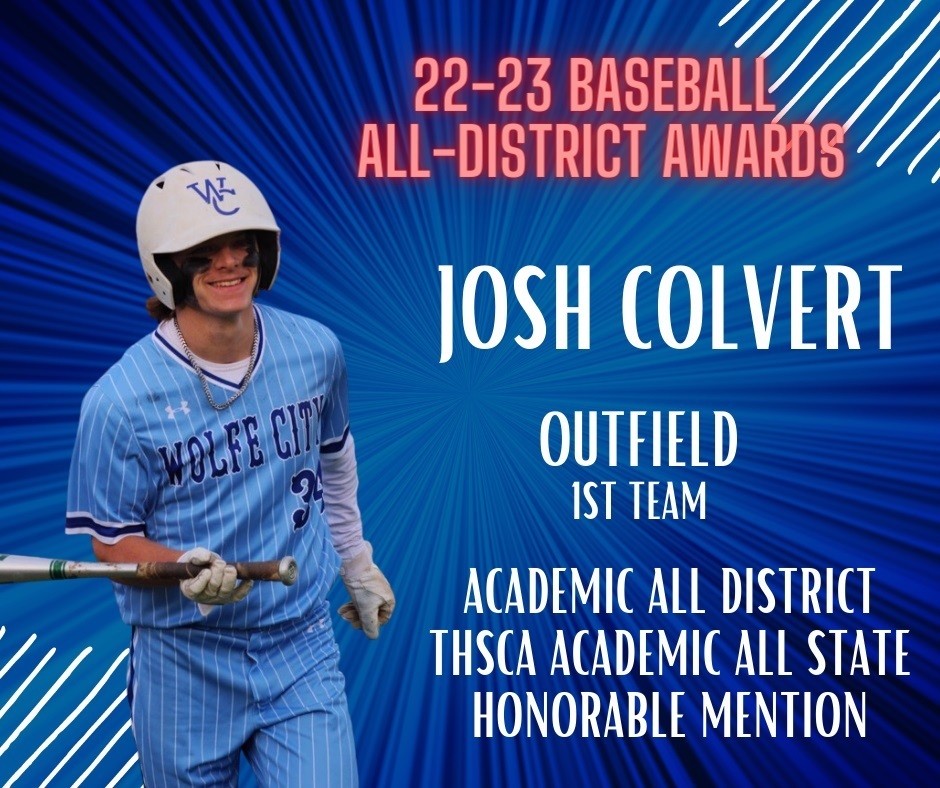 We are hiring at Wolfe City ISD! Come and apply to join the PACK and work with some great educators that put kids first! ~It's the Wolfe City Way!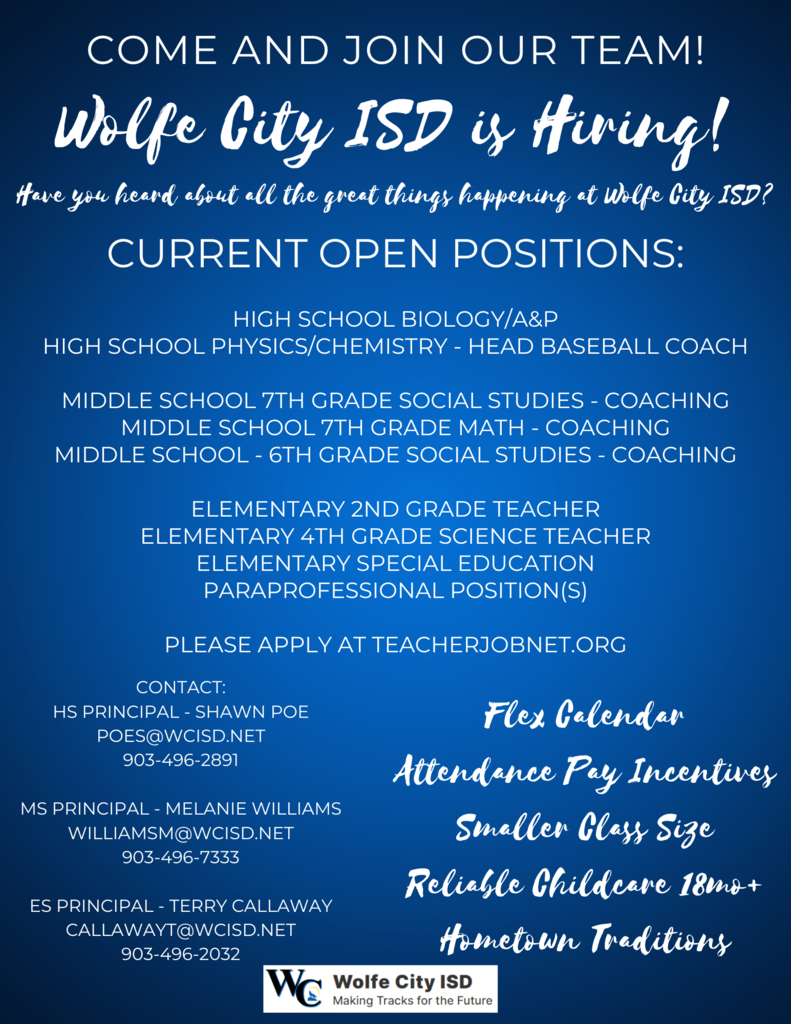 We are excited to announce our new Head Girls Basketball Coach, Amy Herron! Coach Herron brings a wealth of experience and knowledge back to Wolfe City! Coach Herron has previously won a state championship as an assistant Coach and look forward to the great things she will build here at Wolfe City!

Wolfe City Elementary will be hosting the Senior/Kinder walk tomorrow May 24 at 10:00 AM. Guests may start to arrive at 9:40 AM, and must have a valid ID for entry. The WCE office will have a map to show parents where to go.

STRENGTH AND CONDITIONING CAMP BEGINS JUNE 5 TO JULY 20. FREE TO WOLFE CITY MS AND HS ATHLETES. ALL ATHLETES ARE ENCOURAGED TO PARTICIPATE! ALSO JOIN US THIS SUMMER FOR FUN, AND SPORT SPECIFIC INSTRUCTION AT BASKETBALL, VOLLEYBALL, CHEER, FOOTBALL, SOFTBALL & BASEBALL CAMPS-$40 PER SESSION. STRENGTH/CONDITIONING FORMS AVAILABLE AT MS & HS CAMPUSES. YOUTH SPORT CAMP FORMS AVAILABLE AT ELEMENTARY & MS CAMPUSES.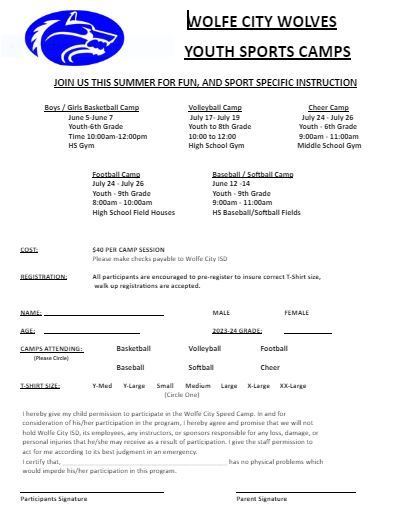 Please welcome our new Head Softball Coach, Coach Hali Williams! A graduate from Bells High School where she collected two softball state championship rings. She then went on to attend Williams Baptist University to play collegiate softball for four years while pursuing a career in education and says she couldn't be more excited to join the Wolfe City family!
As of the 2022-2023 school year, Wolfe City ISD was chosen to participate in stage 3 of the newly introduced TEA Cyclical Review. As part of the review, TEA requests stakeholder participation through a survey. If you are interested please take the time to complete the survey. Completing this survey with validity will support guiding the Wolfe City ISD Special Education Program in better serving our students. Survey will close June 6, 2023 Click on the link below to complete the survey:
https://tea.co1.qualtrics.com/jfe/form/SV_1U1DJhIjLATIqR8
Thank you to our WCISD Pack Dads! Thank you for helping making our school safe and secure. We appreciate all that you do. Pack Dads: Adam Samples, James Scott, Jason Davidson, Pat Painter (Not pictured).

6th graders report to wherever they normally report to this morning. If they signed up for a physical, they will be bussed to the hs. If they are in band, they will be at the hs already.

This week in Wolfe City Athletics. Hunt Regional Healthcare and Wolfe City ISD are collaborating to provide FREE SPORTS PHYSICALS on Monday 5/22 for our athletes and band members. Students must have turned in their completed UIL physical and medical history forms in order to be registered for their free physical. Students that are planning on participating in athletics or marching band, must have a Pre-Participation Physical Examination (PPE) as well as complete the medical history form prior to participation in any UIL practices, games, performances, or matches for the 2023-24 school year. ** Students that are unable to attend our free physical day, are welcome to go to Hunt Regional Urgent Care, 3206 I-30W, Ste. B in Greenville next to Academy Sports and have their physical done for a flat fee of $25.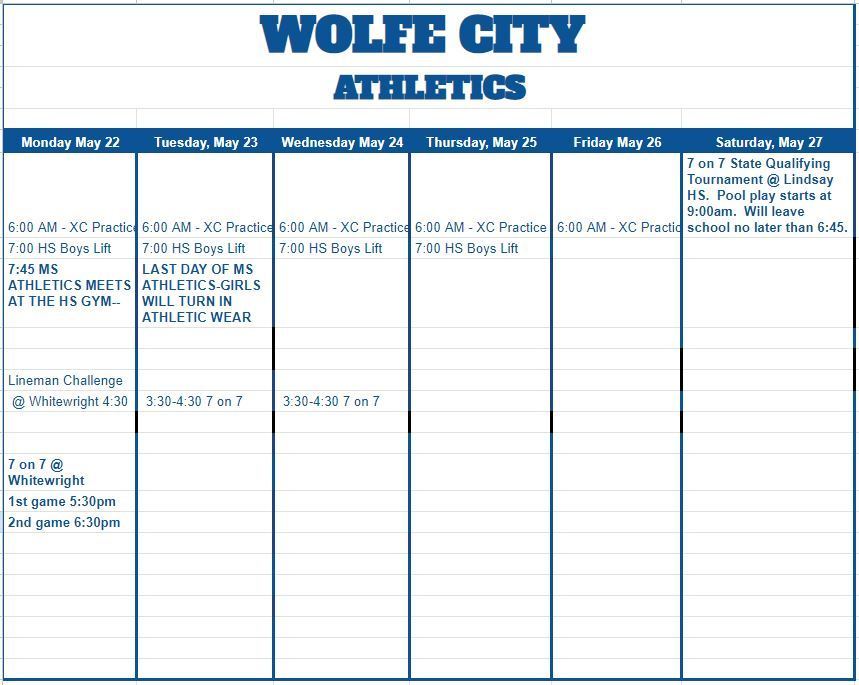 Wolfe City Elementary will be hosting a Talent Show Tuesday May 23, 2023. There will be 2 performances for parents to attend and all participating students will perform in both shows. The performance for our Pre-K through 2nd Grade students will be at 9:00 AM, and our 3rd through 5th Grade students will be at 1:30 PM. Please RSVP through the QR code provided to ensure timely entrance to the performance. All parents planning to attend must provide valid ID for entry.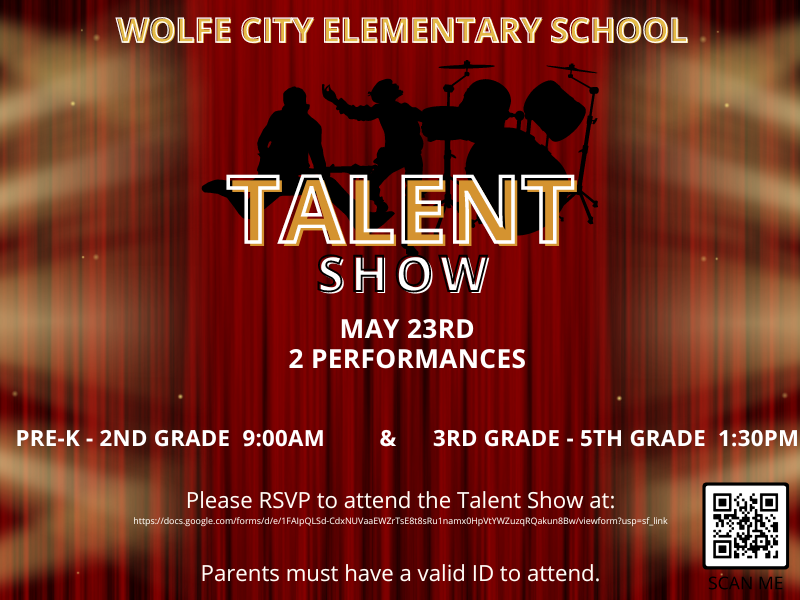 7th-11th grade band members attending this year's field trip will report to the High School Band Hall TOMORROW at 7:30am! 🚾🎵 A detailed itinerary has been shared through the Remind group to the students and parents. For any questions, please contact Destiny Kopp.

Wolfe City Elementary invites you to attend the end of year awards in the Sydney Wasson Multi-Purpose Center located at the Wolfe City Middle School. All attendants must have valid ID for entry.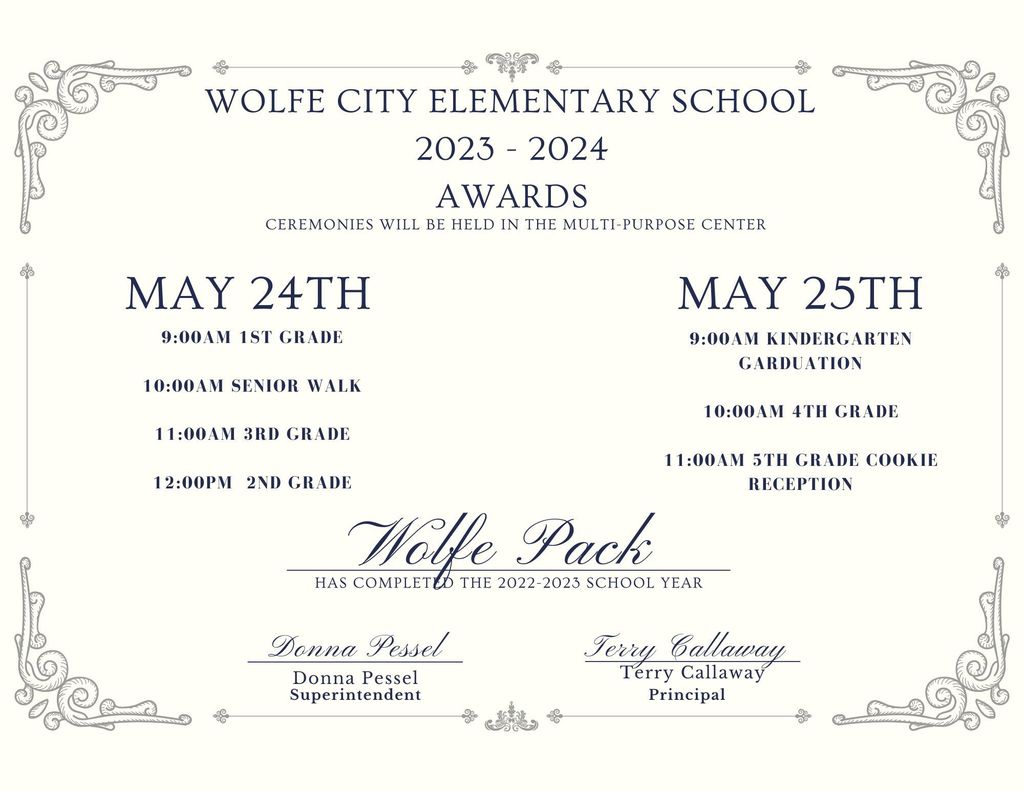 Please join us at 3:45 in the Wolfe City Elementary Den to celebrate the career and retirement of Liz Myrick.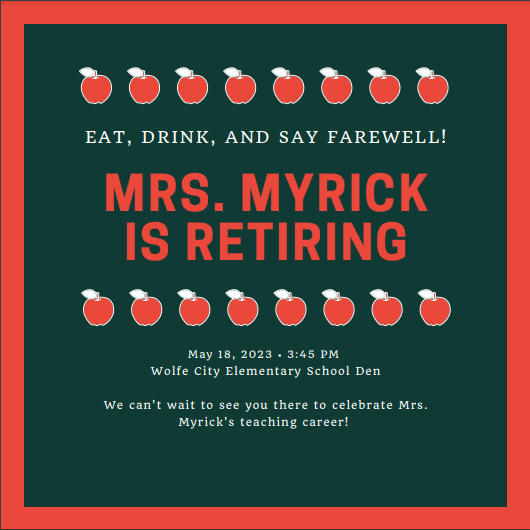 Reminder: athletic banquet is tonight. Doors open at 6:00pm, dinner served at 6:30pm. Looking forward to a great night celebrating our athletes!🐺💙🚾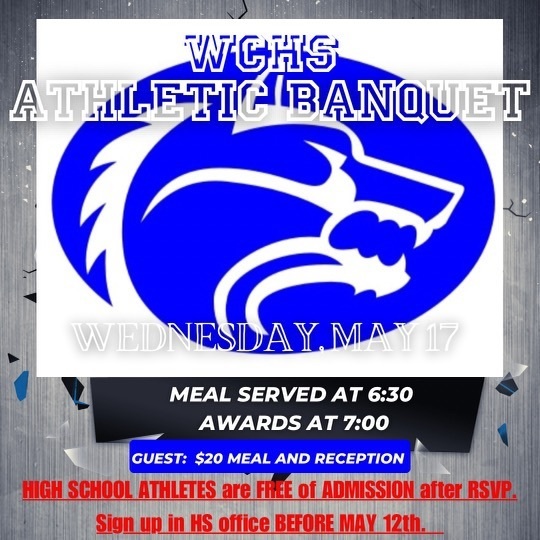 Reminder: Your child was given an athletic packet for the 2023-24 school year that needs to be filled out and returned today to register them for the free Physicals offered Monday 5/22.

Congratulations to Senior Julissa Olvera for winning the silver medal in Computer Applications at the UIL Regional Meet! She will be competing at the State Meet to be held in Austin on Thursday, May 18.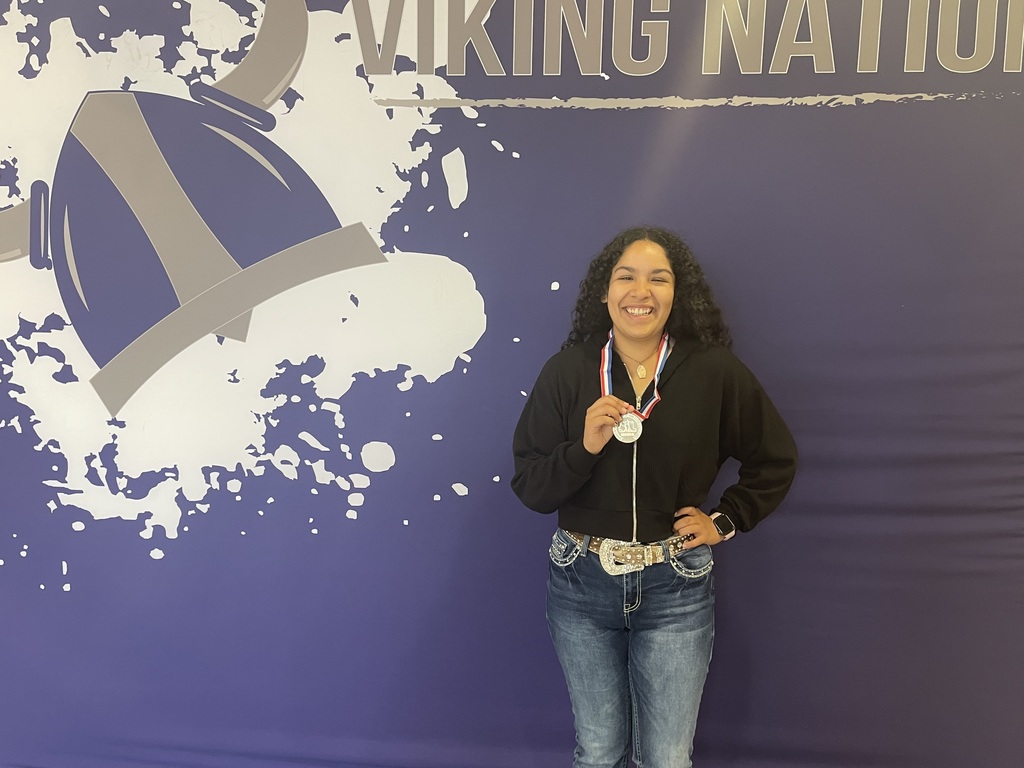 ALL MS Students report to the MS Gym tomorrow 5/17 at 7:45am. There will be NO MS Athletics tomorrow.

Easter may be over, but for the Peeps brand manufacturer, Just Born Quality Confectioners, business is not over! After completing a case study of the candy company, students in Business Information Management classes used Excel to create a variety of business documents including invoices that used embedded formulas and functions.